Sign In
You should receieve an email shortly with instructions to finish resetting your password.
Phil Jones Bass M-7 Micro 7 Bass Amplifier
$389.99 $329.00
*All sales are final on new products
Successfully added to your cart
Product Description
Light and Portable Tone-To-Go

Tone-to-go just got more portable and affordable with the Phil Jones Bass MICRO 7 combo. The MICRO 7 is a single channel 50 Watt bass combo with a 7" driver and 3" tweeter. It measures less than a foot on all sides and weighs only 15 lbs. It is the most affordable and compact combo from PJB yet.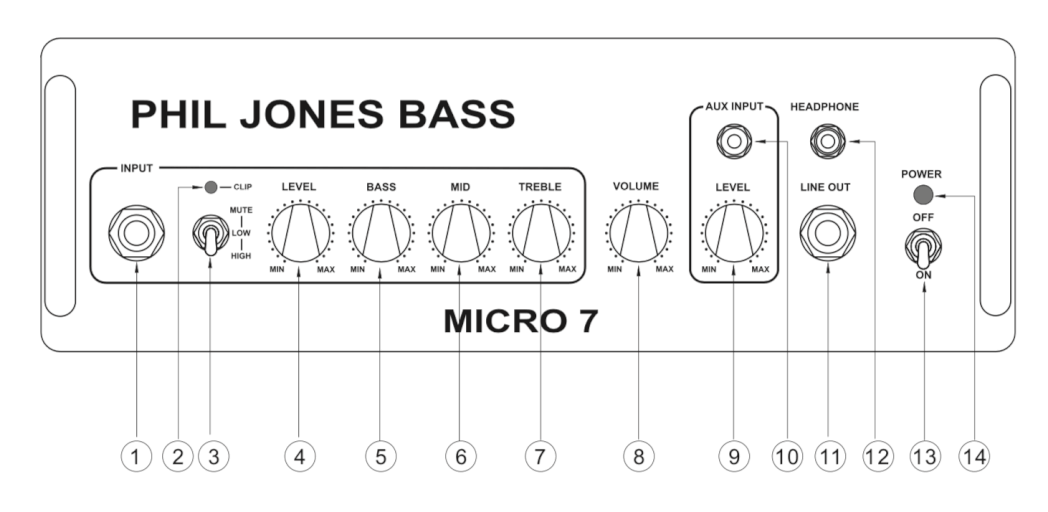 (1) Input Jack (2) Clip Indicator (3) Mute/ Passive/ Active Switch (4) Input Level (5) Bass-EQ (6) Mid-EQ (7) Treble-EQ (8) Master Vol. Control (9) AUX Level Control (10) Input AUX Jack (11) Line-Out Jack (12) Head-Phone Jack  (13) Power On/Off Switch (14) Power
Specifications
Model: M-7
Power Output: 50 Watt (RMS)
Speaker: 1 x 7" Proprietary PJB woofer + 3" Tweeter
EQ: 3-Band EQ (Treble, Mid, Bass)
Input: AUX-Input Jack
Output: Line-Out, Headphone-Out
Other: Power Switch
Power: 100/240V AC
Dimensions (W x D x H): 12 x 9.7 x 9.8 inch
Weight: 15.5 lbs
Color: Black